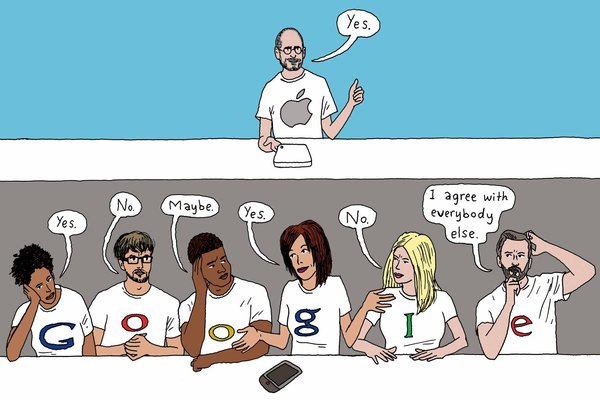 The Auteur vs. the Committee
From an article in digital domain at http://nyti.ms/qBBIB8
 AT Apple, one is the magic number.

One person is the Decider for final design choices. Not focus groups. Not data crunchers. Not committee consensus-builders. The decisions reflect the sensibility of just one person: Steven P. Jobs, the C.E.O.

By contrast, Google has followed the conventional approach, with lots of people playing a role. That group prefers to rely on experimental data, not designers, to guide its decisions.

The contest is not even close. The company that has a single arbiter of taste has been producing superior products, showing that you don't need multiple teams and dozens or hundreds or thousands of voices.
A well-known commentator, John Gruber, gave a talk a few years ago about design leadership and creative vision.
 Two years ago, the technology blogger John Gruber presented a talk, "The Auteur Theory of Design," at the Macworld Expo. Mr. Gruber suggested how filmmaking could be a helpful model in guiding creative collaboration in other realms, like software.