There are many desktop programs that make using twitter easier. Whether for managing multiple accounts or tracking comments across many social media sites, these apps and programs can make the experience of using twitter/facebook/tumbleupon etc. more efficient.
Here's a website that scans your website/tweets for word frequency and creates art in the form of a "word cloud". While not strictly useful, this site can be used to scan a web page and find the most popular words for SEO keyword purposes.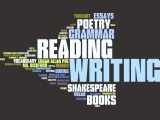 Wordle is a toy for generating "word clouds" from text that you provide. The clouds give greater prominence to words that appear more frequently in the source text. You can tweak your clouds with different fonts, layouts, and color schemes. The images you create with Wordle are yours to use however you like. You can print them out, or save them to the Wordle gallery to share with your friends.
Another website, Appstorm, gathered together over 50 Mac twitter apps/programs/clients.
An important fuel to this fire is the remarkably open Twitter API which has allowed developers to create a plethora of beautiful and incredibly convenient desktop applications that connect with every facet of the service. This article is dedicated to all you readers who, like me, are completely addicted to two things: Mac applications and Twitter.